We adhere to the highest standards of corporate governance, exercising accountability, fairness and transparency across all our business operations. We exercise good management to provide our shareholders with sustainable returns on their investments.
Our corporate governance is based on the principles of astute commercial judgement, sound understanding of the organisation's business and acting with due care and diligence in the best interests of the organisation as a whole.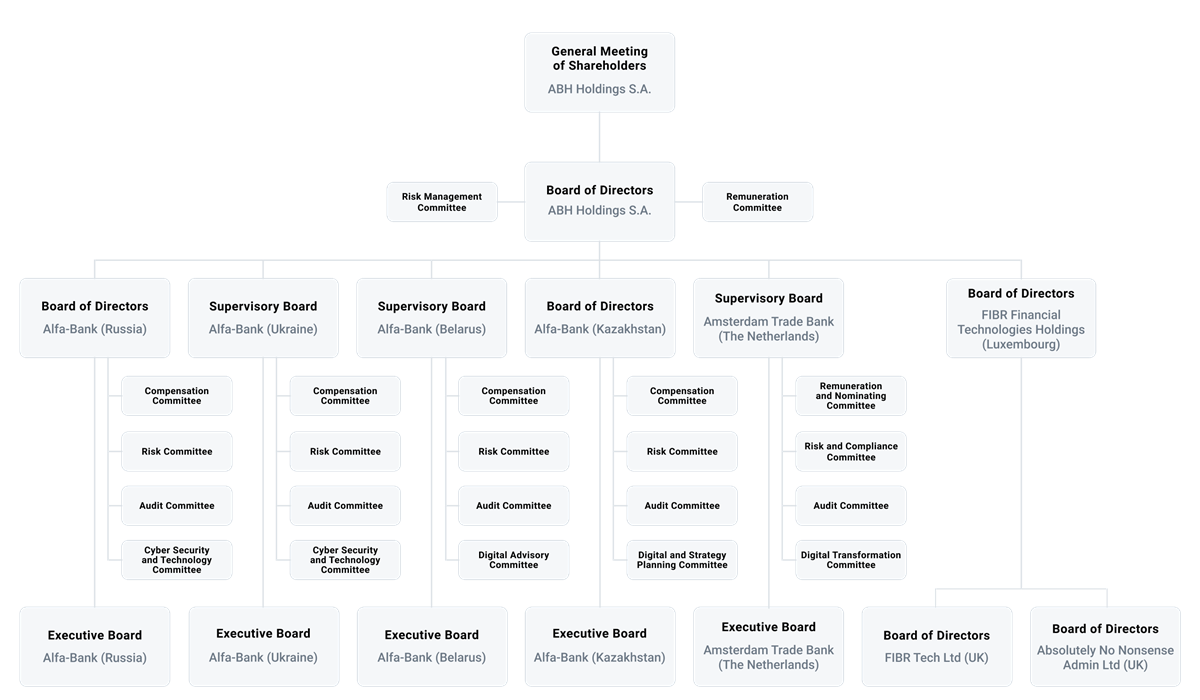 General Meeting of Shareholders of ABH Holdings S.A. is the supreme governing body of the Group, which passes decisions on fundamental matters such as amendments to the charter, the issue of new shares, determination of the quantitative composition of the Board of Directors and election of its members, approval of the external auditors, and distribution of profits. A General Meeting of Shareholders is held once per year in Luxembourg.
Board of Directors of ABH Holdings S.A. meets at least four times a year in Luxembourg and is responsible for strategic guidance of the Group's activities, performing oversight functions and approving business strategies for individual banks, providing advice, supporting the search and approval process for senior management, approving annual budgets and consolidated accounts, and implementing compliance control and risk management.
Supervisory boards and boards of directors of individual banks oversee the general course of business of the Group's banks and periodically assess at the strategic level their overall commercial activity within the context of the approved risk appetite. They are supported by respective board committees, whose members are appointed by boards and consist of board members accordingly.
Board committees assist and support the boards in specific areas where functions are delegated to respective committees as follows:

Compensation Committee (also Remuneration Committee or Remuneration and Nominating Committee) facilitates matters related to the development of remuneration policy principles and incentive schemes, overseeing their implementation, and appointment, performance monitoring and remuneration of members of the governing bodies, including attracting talent and creating incentives for their effective work;
Risk Committee (also Risk and Compliance Committee or Risk Management Committee) assists in developing strategies for accepting risks and determining risk appetite, and monitoring the implementation of liquidity and capital management strategies within the approved risk appetite;
Audit Committee secures the effectiveness of accounting principles and internal control mechanisms by ensuring that financial reports and other related information are accurate and complete, and by monitoring the integrity of established procedures for oversight of financial reporting, internal and external audit processes;
Cyber Security and Technology Committee (also Digital Advisory Committee or Digital and Strategy Planning Committee or Digital Transformation Committee) supports an organisation in its digital transformation, swift transition of business processes and migration to innovative platforms, as well as making recommendations with respect to proactive response to potential threats arising from digitalisation and ever-increasing technological complexity.

Executive boards meet on a weekly basis and are collectively responsible for the strategy implementation, and the daily management and operational control of activities of the Group's banks, with the exception of resolving issues referred to a General Meeting of Shareholders and to a board of directors or a supervisory board of an individual bank.